ZLC CHRISTMAS ORNAMENT
Don't miss out on a beautiful ceramic ornament of Zion Lutheran Church. Ornaments are 3 1/4″ and include a gold string for hanging. Ornaments are $12 each and proceeds will benefit Music Ministry. Order forms are in the weekly bulletin or you can get a form from the office. Deadline to order is August 15th!!! Ornaments will arrive mid November!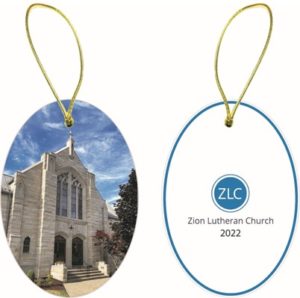 SECOND SATURDAY SUMMER COOKOUT
We know you're busy during the summer so why not end your Saturday by coming to worship and staying for a cookout? We'll provide the meats. We have set up a meal train for those who want to prepare a side dish or dessert: https://mealtrain.com/w9zd1w If you are unable to use the meal train, please contact Karen Stoddart at 412-580-5814 and let her know what you are bringing. Our next cookout is August 13th.
MUSIC MINISTY PICNIC
All are invited to a picnic at South Park's Woodland Crest Pavilion on Sunday, August 21 from 12:00 -3:00 p.m. Directions: Corrigan Drive to Stone Manse Drive. Parking is available near the pavilion and across the road. There is a playground for the kids. Hamburgers, buns, condiments, plates, napkins, utensils, water, and lemonade will be provided. Please bring along a dish to share!
There is no electricity or running water. To RSVP CLICK HERE by Monday, August 15.
GRANDMA'S ATTIC (FLEA MARKET)
GRANDMA'S ATTIC (FLEA MARKET)
Mark your calendar! Grandma's Attic is coming back on Saturday, August 27 from 8-2. You will also have an opportunity to shop following the Saturday (8/27) and Sunday (8/28) worship services. Your donated "treasures" can be brought to the Heritage Room beginning Monday, August 1st – Sunday, August 21st. Please make sure the donated items are clean and in working order. As in the past we will NOT be taking clothes, shoes, computers, or large furniture. Please note: pickup of your donated items after August 1st is available for those who cannot bring them to church. Please call the church office to set this up. Thanking you in advance as you gather up your donations. If you would like to help set up the week of August 22nd, help the day of the sale August 27th or have any questions, please call Saundra Schlessman at 412-655-1178.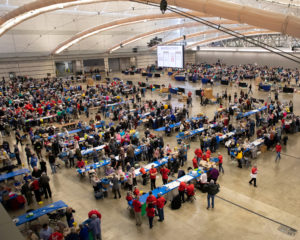 AMEN TO ACTION
Zion will be participating in this year's Amen to Action event by packing food to be distributed by The Greater Pittsburgh Community Food Bank. Like last year, this event is scheduled to take place at various satellite churches throughout the month of November. The event closest to Zion will be at
LOUISE DE MARILLAC CATHOLIC CHURCH
320 McMurray Road, Pittsburgh, PA 15241
Saturday, November 5, 2022 (8:30 AM – 12:00 PM)
Zion will take care of registering everyone with Amen to Action so that we are registered together. All you need to do is provide us with some the information and we'll take care of getting you registered. Please provide the needed information HERE.
To learn more about Amen to Action, please visit… https://amentoaction.org/about